broadbeach dining & restaurants
---
With a variety of dining options, sun drenched beaches, boutique shopping and vibrant nightlife, Broadbeach is fast becoming the premier destination for Gold Coast holidays.
Holiday makers are amazed at the many things to do in and around the Broadbeach area. Along the Broadbeach strip travellers are spoilt for choice when it comes to dining. Choose from over 100 quality restaurants and cafes which line Surf Parade and the Broadbeach Mall, each offering alfresco dining and delicious international cuisine. Among these restaurants travellers will find some of the best and most sophisticated on the Gold Coast including Rock Salt and Moo Moo The Wine Bar and Grill which serves up some of the best steak and seafood in southeast Queensland.
Along with great shopping comes great nightlife and entertainment. The majority of the Gold Coast's nightclubs and bars are located in Broadbeach and neighbouring Surfers Paradise. Dance the night away to house music, techno, live bands or watch a Las Vegas style floor show at Jupiters Hotel & Casino, then try your luck on the gaming tables.
Dining and entertainment options are endless all within an easy walk from Bel Air on Broadbeach.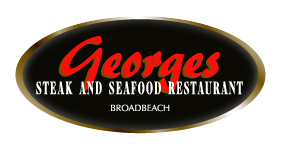 georges steak and seafood restaurant
What can I say? If you love seafood, then you must visit Georges on Broadbeach. This restaurant is one of the most popular on the coast and serves some of the best seafood meals you will ever experience. Open for lunch on Friday, Saturday and Sunday and for dinner from 6pm, 7 days a week, it is always best to book a table here, so you do not miss out on a truly delicious gastronomic feast.
Try their delicious Barramundi, Whole Sole or BBQ Prawns, their pasta is just wonderful and their steaks cooked to perfection. Georges is simply an experience in high quality food, cooked well and in generous portions. Family owned and run, the service at Georges is without par the best service you will ever experience. Once you dine at Georges Steak and Seafood Restaurant, it will become your favourite place to relax with friends and watch the world go by - and you will return here time and time again.
valentinos on broadbeach
This is one of the friendliest Italian restaurants in Broadbeach. Open from 4pm until midnight, Valentinos is a family run hub of delicious pasta and authentic Italian pizza, all made from time honoured recipes handed down through the generations.
Popular with the locals, who appreciate good food and generous sized meals, this is a little gem of a restaurant in Broadbeach. A busy night at Valentinos is the norm, but because they are so passionate about sharing their love of food with everyone, they can usually find an extra table or two for hungry guests.
Valentinos offer both a dine-in menu and a takeaway service. Try their coconut avocado prawns, their home made meatballs or their hand made pizzas. Don't forget to check out their seafood, steaks, veal and chicken and their profiteroles are to simply die for!
If you love old fashioned, rustic Italian food at a reasonable price and made with love by a family who are passionate about food, then you need to visit Valentinos on Broadbeach for a truly memorable experience.
saffron indian restaurant
This elegant and authentic Indian restaurant is open for lunch and dinner serving up traditional favourites like butter chicken and rogan josh.
chiangmai thai restaurant
One of three sister restaurants on the Gold Coast, Chiangmai Thai is a favourite among locals. Dine alfresco or within the restaurant where you'll be surrounded by carved wooden chairs and opulent furnishings. The menu has something for everyone and banquets are available. Try their spicy beef, green curry or finish your meal off with some fried banana ice-cream!
moo moo bar & grill
This multi award winning restaurant is open for lunch and dinner, 7 days a week from 11am till late. It is a fully licensed restaurant serving some of the best streak on the Gold Coast. If you like steak then Moo Moos is your little slice of heaven with all cuts selected by hand and some exclusive to Moo Moos.
Select from Dry Aged, Pasture Fed, All Natural, Grain Fed and Wagyu and Angus beef, add a selection of fresh seasonal produce and you have a beef lover's gastronomic delight. Of course they also offer fresh seafood, poultry, game and vegetarian options to cover all tastes. Make sure you book early as tables are snapped up quickly at Moo Moos.
Thai Spice
Located in Broadbeach, Thai Spice is well known for its distinctively flavoured food and reasonable prices. Grilled dishes include Satay Chicken, Goong Yang, Crying Tiger and more. Stir Fried Dishes include Chilli and Hot Basil, Garlic and Pepper and Oyster Sauce.
For Chef's Recommendations, try Macadamia Prawn or Coconut Lime Prawns. Choose a tasty, fresh salad or dessert like the Sweet Sticky Rice with Taro to complete your order.
cardamom pod
If you are looking for vegetarian, vegan or gluten free food on Broadbeach, then the Cardamom Pod was created with you in mind. This very popular dining spot is open for lunch and dinner every day and has a steady stream of customers who absolutely rave about the food.
Their meals are large and they offer some of the best salads on the Coast. Their desserts are to die for and their a la carte breakfast is not to be missed. You don't need to be a vegetarian to appreciate good food, served in friendly surroundings with lots of comfortable lounges and plump cushions. Don't leave the Coast until you have dined at the Cardamom Pod.
food fantasy at jupiters casino
Food Fantasy is an all-you-can-eat foodies dream come true and is open for breakfast, lunch and dinner, 7 days a week. There is just about every type of food you could wish for and their desserts are fabulous. On Friday and Saturday nights they have a seafood buffet, so if you love seafood, then you cannot miss dining here on the weekend.
If you want lots of great food at a reasonable price, then head to Food Fantasy and you will not be disappointed. Just make sure you are really hungry before you dine here!
Iyara Thai Restaurant
When you are craving some Thai food, Iyara Thai Restaurant has an amazing number of options. People have been enjoying the food for quite some time and that's because the chef is dedicated to using fresh ingredients. Nothing is found in cans or boxes as it's all made from scratch.
The moment you take a bite out of the food from Iyara Thai Restaurant, you will know that things are different. Whether you are looking for curry, stir-fry or something else, the menu will have it. You can make sure you always eat good by ordering takeaway from here.